Formex in recent years is being used in many advertising fields. In wedding decoration, award tables, advertisements, ... are usually made of Formex.
So the plate Formex What are the advantages and disadvantages of Formex what ? The following article will provide you with detailed and useful information about this material.
What is Formex?
Formex (also called fomat) is a material made from PVC that undergoes many different stages of fabrication into foam sheets serving many purposes.
Formex panels are used by many companies in their advertising for an advantage that other materials do not have.
One of the remarkable advantages is that it is simple and cheap to reduce costs. As for the advantages of details we analyze below in more detail.
Currently on the market there are two commonly used types:
White fomex sheet: White formex is used more often because it is cheap, can be freely printed, painted for posters, decals, standee...
Colored fomex sheets: Colored forms are color coated formex sheets that are used for a variety of purposes.
Structure of formex material
The structure of the formex sheet consists of 3 layers of different soft and hard plastic overlap.
On the top and bottom surfaces of the format there is a hard plastic layer that keeps their surface flat, printable and less affected by external forces.
The soft plastic layer is similar to the foam inside, giving the product a good thickness and can be bent, convenient to process and transport.
Thanks to its structure as foam plastic, the format sheet is easy to print, cut and join.
One thing to keep in mind when using format sheets is that you should only keep them flat and not fold them. If you do not pay attention and fold it, the format sheet will be broken.
The formex panels used as advertising models are usually lightweight so you can carry them very easily. However, they do not tolerate high temperatures.
So if the outdoor temperature is too hot, the formex can warp and damage.
If you want to use this material for outdoor decoration, keep them in a cool area, away from direct sunlight.
Advantages of formex
Formatted materials have many of the following advantages, so they can be used many times in life:
Formex Light weight for easy portability. Besides, format Can hang in any position you want without fear that falling down will cause danger because this material is very porous and light, very safe for the user.
The structure is very sturdy and durable.
Formex's impact resistance is very high, so it is very suitable for outdoor installation.
Waterproof, resistant to rain and wind, so they are applied in many fields besides billboards.
Heat insulation, non-flammable and soundproof, so it is often used as partition and interior design.
Ingredients are not harmful to human health.
Designing, printing with formex sheets is very simple and easy, fast execution.
Produces very crisp, quality prints.
Application of formex
Making billboards
Stationary materials
Printing materials
Making model house building model
Making interior partitions
Outsourcing embossed logo art
Formex sheet properties
The price is extremely cheaper than any other material
Water proof
Toughness and toughness
Simple cutting with rudimentary equipment is easy to cut
White can print surface like paperboard
Application of formex in advertising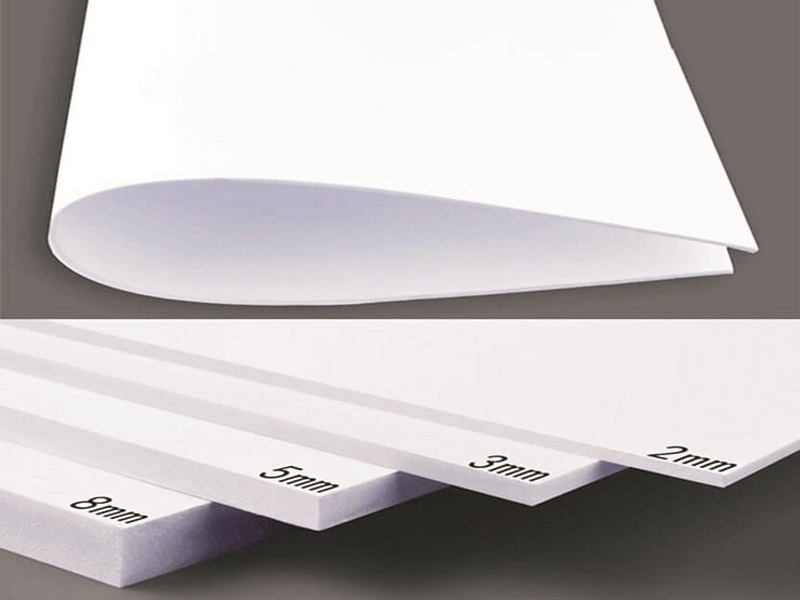 Formex sheets are now used in many areas of life.
They serve many different decorative as well as advertising purposes. Here are some common uses of formex panels:
Used a lot in advertising construction such as used as braille, signboard, signboard, wall drill board, wall board, ...
Making display boards, bulletin boards, rules boards, fire protection boards, roster boards, ... These products are usually printed in PP and then rolled onto formex.
Used for indoor interior decoration.
Used for outdoor decoration, display booths, backdrop, guest gates, ...
Used as a decoration on the partitions between rooms or to cover the door to avoid the sun and increase the beauty of the front of the store or company.
Used as an art model. Models in cinemas or weddings are formex products.
Used as a model standee. PP or decal paper will be rolled onto thick formex sheets as a vertical model. This type of standee is often used in front of a business store to reduce the cost of hiring real people. In addition, the images commonly used are famous ones, so they will attract passers-by.
Tuong Minh Advertising
If you need advice on outdoor advertising products or other forms of advertising, please contact Tuong Minh Advertising via:
Hotline: 028 3984 8998
Email: info@tuongminh.com.vn
Address: Ho Chi Minh City: 730/126 Le Duc Tho, Ward 15, Go Vap District.
Facebook: Advertising Tuong Minh
In Tuong MinhWe define clearly the responsibility to accompany the business in the design and construction consultancy process with the desire to bring the best experience to customers.
You may be interested in: Trend of advertising signs in 2021